Joshua Sinel brought up an important point in a comment today: social media analysis involves more than blogs. So much of the hype has centered on blogs and their role in stirring up trouble, but that's only part of the story. You might also look at online communities for insight. As usual, the question of what to analyze (and how) goes back to what you're trying to accomplish.
Conveniently, today's xkcd cartoon deals with a similar topic. Do these names look familiar (click through for a larger view)? Blogs are only part of what's going on.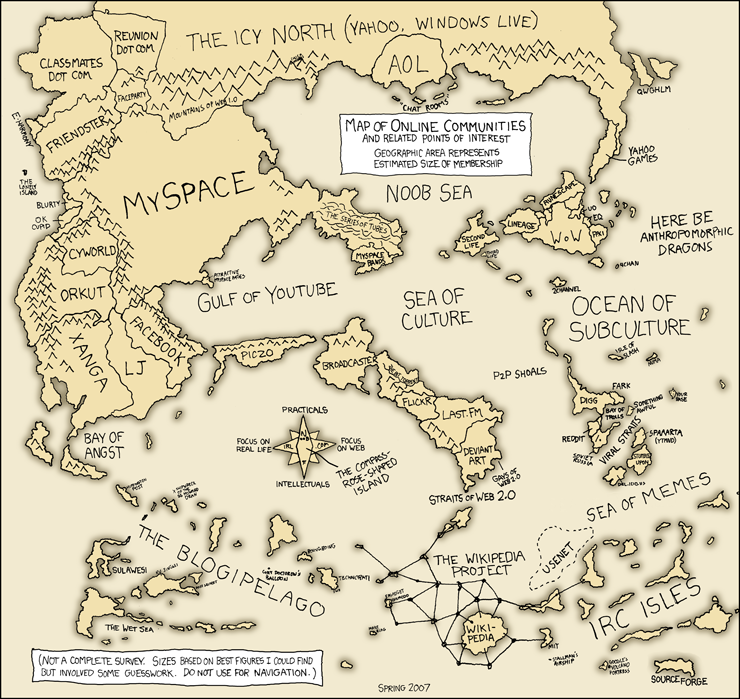 Blogs get a lot of attention, because interesting things are happening in Blogistan. Mainstream media stories sometimes originate on blogs, so paying attention online can provide an early opportunity to take corrective action. We have case studies to encourage blog monitoring. But blogs have some limitations if you're looking for insight into the general population.
Bloggers aren't representative. Even with easy-to-use blogging platforms, blogging requires knowledge, effort and commitment. Bloggers are outspoken and opinionated, and most probably have an agenda. So while bloggers may be insightful or opinionated, they (we) probably aren't a good sample.
Josh's company, Kaava, was the first I interviewed for the Guide to Social Media Analysis. Kaava does its research on online communities—newsgroups, discussion boards and such—which have lower barriers to participation. As Josh wrote in his comment:

Threaded message boards have been around for a very long time, truly represent the most massive deposit of consumer insights online, and also truly represent an ongoing, mixed-constituency, consumer conversation.

Discussions in communities tend to be on topic, at least compared to the noisy blogosphere. The community has a topic, and its members are there for the purpose of discussing that topic. When they want to discuss something else, they do it some
where
else.
Blogs have their use, even in the context of research in communities. They can give a preview of topics that may move into communities. But those communities may be the better place to performs research that attempts to gather insights that traditionally came from survey research.
Or, to summarize the roles of blogs and communities as Josh and others have described it:

Blogs for awareness.

Communities for consumer insight.

Before you launch a monitoring or research initiative, do you know what you're trying to accomplish? What are you looking for? Where's the best place to find it?
I like questions. They're frequently more useful than statements.
Tags: social media analysis, communities, Kaava